Are you looking to become more familiar with real estate and property management associations? Associations are a great way to network, gain access to continuing education and stay up to date with industry trends and news. This article takes a deep dive into various Canadian property management associations.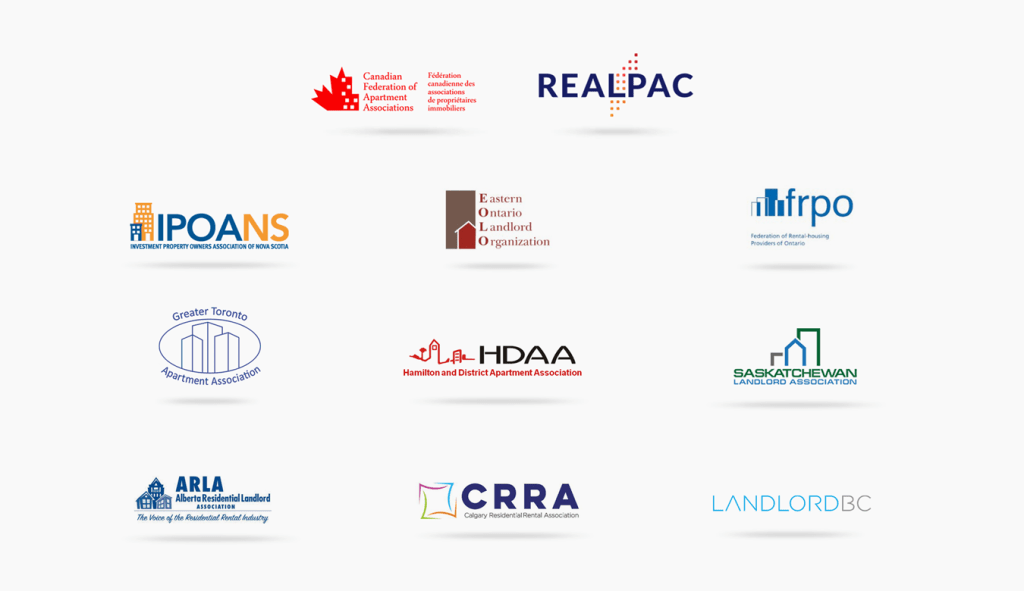 Canadian Federation of Apartment Association
The Canadian Federation of Apartment Associations (CFAA) represents more than 15,000 rental housing providers of all sizes: small-scale landlords, investors with dozens of rental units, large corporate owners and publicly traded apartment Real Estate Investment Trusts (REITs). CFAA members' properties are located in all provinces from coast to coast, as well as in the territories. By working with the federal government, CFAA aims to achieve high industry standards for customer service, housing assistance for tenants and fair rental market regulations and taxation.
Membership details
Established in 1995, CFAA now supports rental housing owners and managers across Canada who collectively manage close to 1.5 million residential rental suites. As a member, you gain a dependable advocate, connections to various media firms and publications, educational opportunities, insights into government relations and resources to stay current with the latest industry trends.
Events
Association events include the annual CFAA Rental Housing Conference and Award Gala, webinars and more. Check out the CFAA events calendar to learn more.
How to join
Join CFAA online as a direct landlord member to support their work for the rental housing industry, receive their newsletter and have a vote in their governance. Rental industry suppliers have the option to become a suppliers council member. As a landlord member of a provincial or regional CFAA association, you are automatically an affiliate member of CFAA. To receive their affiliate newsletter, register as an affiliate landlord member.
Real Property Association of Canada
The Real Property Association of Canada (REALPAC) is the only national association representing top-tier executives and decision makers in commercial real estate (CRE). Their strategic priorities include advocating for their members and the wider CRE industry, environmental, social & governance (ESG), diversity, equity & inclusion (DEI) and financial best practices.
Membership details
REALPAC members include C-suite professionals representing $1 trillion CAD in assets nationally. This includes chief executives of publicly traded REITS, pension funds, private commercial real estate companies, fund managers, asset managers, developers, government real estate agencies and more. The association engages with the most senior executive talent in the industry.
Events
REALPAC offers a variety of events including member-only committee meetings, conferences, summits webinars, education courses and networking opportunities. For more information, check out the REALPAC events page.
How to join
To join, you must be invited or nominated by an existing member. Visit their membership page to learn more.
Investment Property Owners Association of Nova Scotia
Established in 1978, the Investment Property Owners Association of Nova Scotia (IPOANS) is dedicated to Nova Scotia's residential investment property owners and managers. IPOANS aims to provide its members with tangible long-term benefits through education and membership services. IPOANS has established itself as a leader and demonstrated active efforts to support its members.
Membership details
Representing over 45,000 apartment units under management throughout Nova Scotia, IPOANS provides its members with networking opportunities with some of the biggest leaders and vetted suppliers in the East Coast. Members can enjoy customized purchasing and service programs, educational programs, webinars and many more benefits. Additionally, IPOANS offers a certified Residential Property Management course where students can earn a certificate of professional studies from Nova Scotia Community College.
Events
IPOANS members can participate in its virtual events program that include webinars, panel discussions and townhalls as well as in-person events such as an annual awards gala, golf tournament and luncheon designed to connect and empower women in the industry.
How to join
Apply for an Owner or Associate membership by visiting their website.
Eastern Ontario Landlord Organization
The Eastern Ontario Landlord Organization (EOLO) has been at the forefront of speaking out on many issues. Leveraging its strong relationship with the City of Ottawa and stakeholders in the rental sector, EOLO has proven its credibility by improving property tax treatments for landlords, acquiring municipal housing allowances for low-income tenants and preventing burdensome landlord licensing.
Membership details
Representing more than 40,000 residential rental suites within the Ottawa area, ranging from some of the largest landlords in Ontario to small, independent housing providers, EOLO's members have an exclusive access to a wide network.
Events
Association events include the semi-annual EOLO Education and Networking Event and webinars covering information relevant to the housing industry. Head over to the EOLO website to learn more about its events.
How to join
Apply for an EOLO Landlord or Associate Membership by visiting their website and filling out the respective form.
The Greater Toronto Apartment Association
The Greater Toronto Apartment Association (GTAA) aims to highlight the interests and major concerns of owners, managers and professional service providers in the rental housing industry. Its charitable organization is actively involved with the community, most notably its scholarship program committed to the betterment of youth in the Greater Toronto Area (GTA).
Membership details
GTAA's direct paid membership includes more than 150,000 apartment suites across the GTA. As a member, you can leverage its government relations and have access to various training materials, events, exclusive publications, networking opportunities, programs and more.
Events
GTAA's events include fundraisers, their annual gala, a golf tournament and more. To view their upcoming events, check out their website.
How to join
You can apply for a membership online.
Hamilton & District Apartment Association
The Hamilton and District Apartment Association (HDAA) is a highly respected organization that is consulted regularly by government, industry, media and the public. Formed in 1960, HDAA is one of the oldest rental housing provider and property management associations in Ontario. This association assists in connecting members with reliable vendors to help keep their business running.
Membership details
Made up of housing providers, property managers and suppliers, HDAA has roughly 250 members managing over 30,000 units throughout Hamilton, Burlington, Brantford, Guelph, Mississauga, Oakville, St. Catharines and Niagara. Members have access to many educational resources and industry discounts.
Events
HDAA members are invited to join the annual trade show, golf tournament, bi-monthly dinners and more. To view HDAA's events calendar, visit their website.
How to join
To apply for a membership, visit HDAA online.
Federation of Rental Housing Providers of Ontario
The Federation of Rental-Housing Providers of Ontario (FRPO) is the largest association in Ontario supporting those who own, manage, build, finance and supply residential rental homes. Founded in 1985, FRPO has been a leading advocate for stable rental housing and proven themselves to be experts in the real estate realm. The FRPO Certified Rental Building Program is the only resident-focused apartment building certification program in North America. It is designed to provide renters with quality assurance when selecting their rental apartment home.
Membership details
From single rental units to the largest property firms and institutional owners, FRPO members manage over 350,000 households in Ontario. FRPO offers its members public advocacy, representation and promotion as well as industry research, standards and best practices, education and training.
Events
FRPO's events include its RTA Series, Mac Awards, golf tournaments, DEI workshops and more. To learn more, check out their website.
How to join
Apply for a Property Manager/Owner, Corporate or Associate membership by visiting their website.
Saskatchewan Landlord Association
Acting as the voice of housing providers in Saskatchewan since 1994, Saskatchewan Landlord Association (SKLA) helps sustain the multifamily industry by advocating for equitable legislation and supporting their members. As a provincial association, they work alongside municipalities from across the province and support a diverse group of members in rural and urban Saskatchewan.
Membership details
With more than 700 members, this community has exclusive access to a group consisting of professional landlords, property managers and stakeholders. SKLA strives to give their members a voice in the media and all levels of government, informing them of industry trends, news and updates.
Events
Members can participate in workshops, an annual trade show and other events. This provides them with the opportunity to network with real estate professionals from across the province, offering a one-stop shop for rental housing education.
How to join
Interested? Check out the SKLA website to apply for their General or Service Membership.
Alberta Residential Landlord Association
In 1994, the Alberta Residential Landlord Association (ARLA) was founded. Since then, their mission has been to educate, integrate and provide a united voice for its members.
Membership details
Representing approximately 95,000+ rental units in the Greater Edmonton area, ARLA's membership is comprised of owners, operators and individuals of the public sector and non-profit associations. Members enjoy various benefits and can expect to be kept up to date about all government legislation, market trends, education and networking opportunities.
Events
ARLA hosts a variety of events, ranging from award shows and galas to golf tournaments, luncheons and many more networking opportunities. Check out their website to learn more.
How to join
Apply for the ARLA Professional Memberships or Preferred Service Membership by visiting the ARLA website.
Calgary Residential Rental Association
With over 60 years of experience, the Calgary Residential Rental Association (CRRA) is a longstanding resource for housing providers in Alberta. CRRA facilitates important connections and brings attention to issues that matter for members of the residential rental industry.
Membership details
CRRA provides members with tools needed to manage their tenants and properties within the province. Additionally, members get access to publications like the quarterly Alberta Rental Review, highlighting relevant trends, information, reports and events.
Events
They host and participate in several events, including galas, their annual Expo, seminars, luncheons, golf tournaments, educational courses and more. To see all the events that CRRA members get access to, visit the CRRA website.
How to join
Choose between their Not For Profit, Service, Property Management and Owner/Manager Memberships. To apply now, visit their website.
LandlordBC
LandlordBC is an industry leader within the rental housing sector in British Columbia. With a mission to support rental housing businesses regardless of portfolio size, they aim to professionalize the industry through education and government advocacy.
Membership details
LandlordBC members are rental property owners and managers representing 150,000 rental suites in the province. They boast an impressive array of initiatives available exclusively to their members, including innovative energy-saving programs, access to their newsletters and publications, networking events, marketing, webinars, help line support and much more. Their I Rent It RightTM e-learning program is a legislative online course designed to provide landlords and rental property managers with fundamental knowledge and certification to further enhance their credibility and reputation.
Events
From webinar series to various networking events, you can expect to exposure to experts who provide coaching on tenant relationships, operations and more.
How to join
Choose between the Property Owner or Property Manager membership plan and sign up online on the LandlordBC website.
Proud partner & supporter of Canadian associations
From diving into policy issues to learning which tools can improve your tenant experience, there is an association to meet your needs. By joining a local or national Canadian association, you can also expand your network, client base and business.
If you're looking to find more information about the associations we featured, be sure to look at their website for details. Be sure to mark their events on your calendar. There's a good chance you'll see us there! Head over to our events page to see where we'll be next.