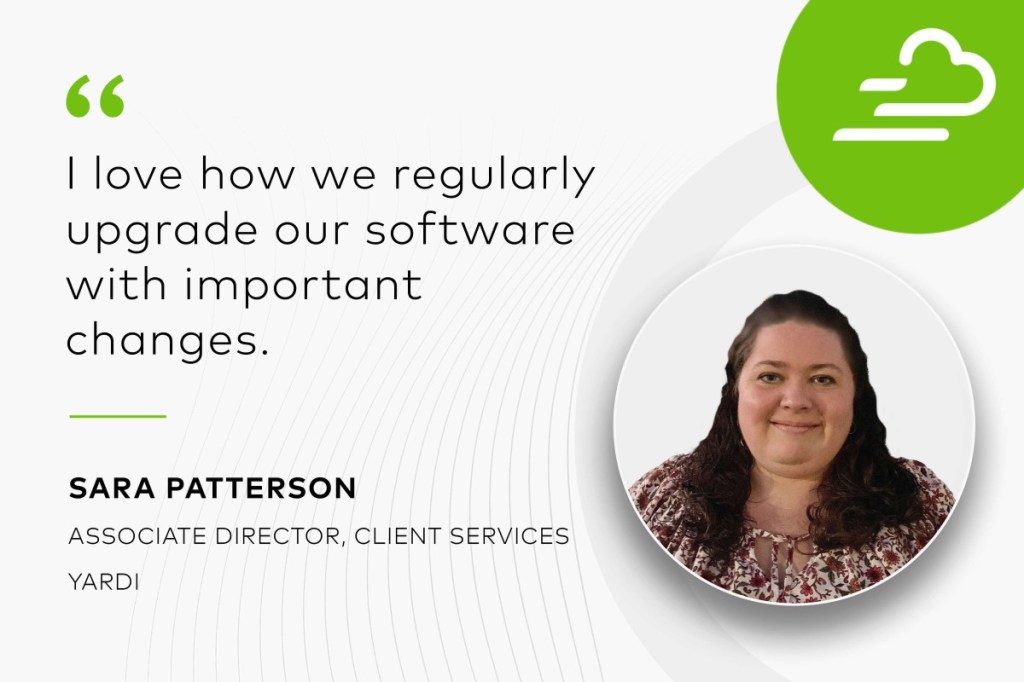 Yardi's Sara Patterson on Revolutionary Property Management Solutions
Sara Patterson is associate director of client services at Yardi, and her focus is on Yardi Breeze Premier. Her teams help new clients get set up as well as provide support for the day-to-day use of our platform. She works closely with our product development and sales teams to communicate the needs of our clients including what new features they would like to see in the platform. Sara knows revolutionary property management solutions when she sees them. That's why we wanted her take on the industry and how smarter innovations can help any size business stay competitive.
Yardi puts a lot of emphasis on our relationship with clients. Has this been more challenging since the pandemic?
One of the great things about the Breeze Premier platform is the built-in chat support. It makes it very simple for our clients to reach out for assistance while they are in the program. Since our primary support channel is chat, there hasn't been a need to change how we interact with our clients even though most of our support team works from home now.
How do you measure that you're providing phenomenal support?
We hear from our clients in many different ways, both about the product feature set but also on the quality of the support they receive from our teams. The growth of our client base over the last several years has shown that our clients trust us as their technology provider and rely on our expertise from setup to day-to-day support.
What does your team need to understand about the industry and our clients to be successful?
This industry is ever-changing, and we need to help our clients keep up with their peers, improve their efficiency and ensure they provide the right tools for their owners and tenants. We do this by having frequent conversations and asking questions that help us gain a full understanding of their needs. The pandemic really demonstrated our need to understand the unique challenges our clients face. We do our best to help them use the Breeze platform to overcome those challenges.
Are there any particular success stories that have stuck in your memory?
The last couple of years have showed us how quickly we needed to implement more modern methods for things like rent collection and online applications. I remember working with a client that had been using a different Yardi product for about 10 years and decided to upgrade to Breeze Premier. They had never implemented RentCafe or online payments but were looking to modernize. Shortly after upgrading, they implemented both RentCafe and online payments and have been thrilled with the results.
Further reading: What Is RentCafe? A Complete Guide For Yardi Breeze Premier Users
What's the most common question that comes up from clients?
A lot of our clients are focused on growing their portfolios and they want to know how they can use technology to become more efficient, and in some cases, outsource tedious tasks to Yardi. For example, they can outsource invoice processing to the Yardi team to reduce the workload of their AP staff.
The other focus for many of our multifamily clients is making sure they have a presence online and how they can attract the strongest prospects to their properties. We have some great tools to help them in these areas, like marketing websites and advertising on our RentCafe ILS. Plus, residents get access to our highly-rated RentCafe Resident app (available on the Apple App Store and Google Play Store) to easily manage their lease, maintenance requests and rent payments online. It's a great way to help retain residents.
What do clients expect when they reach out for support, and what do we need to do to match their expectations?
Our clients expect our teams to be knowledgeable, patient and creative. They also have an expectation that we will provide a comprehensive, timely response to every question or issue. We make sure we have the right resources available to our teams so our clients can be properly taken care of. This is working well — clients report 90% overall satisfaction for chat interactions.
What about Yardi's mission? Has that changed in the time you've been here?
From when I first started at Yardi in 2012 until this moment, the cornerstone of our success has always been taking great care of our clients. We truly strive to build strong, lasting relationships with all our clients.
Our service and development teams continuously collect feedback from clients to make sure we understand what they need to operate more efficiently. I love how we regularly upgrade our software with important changes. That's how we continue to excel for our clients.
And one thing definitely hasn't changed: I'm always looking forward to welcoming many more people to the Yardi client base!