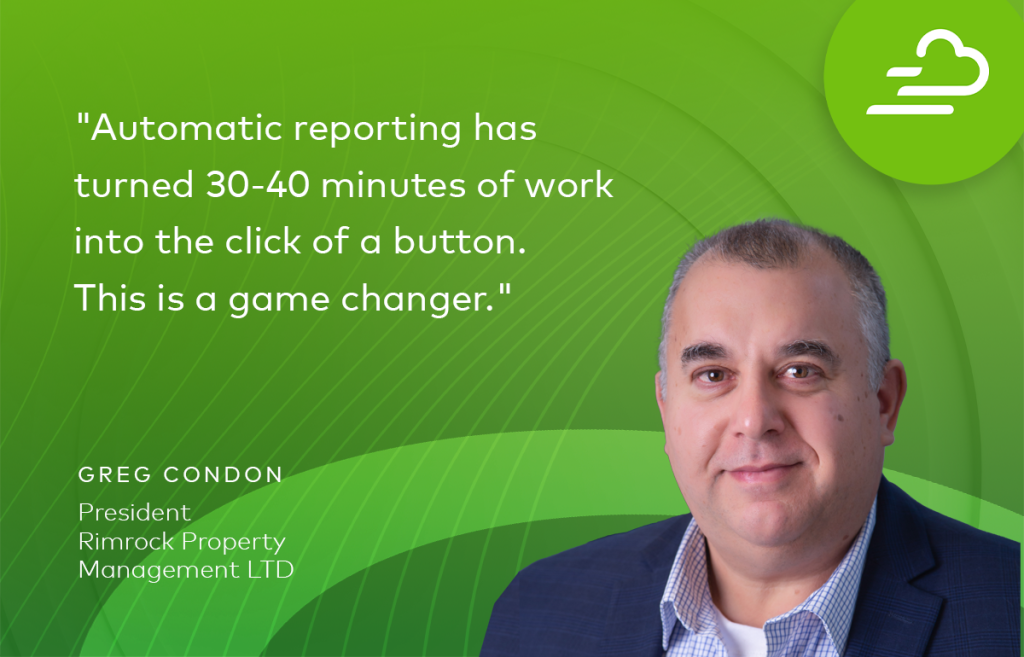 Greg Condon is the president of Rimrock Property Management LTD, a small property management business that operates residential and commercial properties in Calgary, Alberta. We spoke with him about why his business chose Yardi Breeze Premier, what it takes to expand rapidly on a budget and the specific tech features currently helping Rimrock reach its full potential.
Greg, please tell us about your company.
Rimrock formed a few years ago but only began operations in 2022. We've been steadily acquiring clients with single family and multifamily portfolios. We're bringing in new staff, most of whom do not have any property management background. Breeze Premier helps us train and onboard everyone easily.
What factors helped you choose Breeze Premier?
For Rimrock, I needed a software that was based online and a bit easier to use. Being on servers becomes challenging when you bring on 20 new staff to the server. Being a fast-growing small business, an online platform made the most sense. RentCafe and its online tenant portals were also major selling points.
Now that you've implemented new software, what results have you achieved?
We were able to double our portfolio size even while limiting our number of administrators. The property manager stays hands-on, but Breeze Premier helps significantly with growth.
Taking out human touch points helped speed along everything we do. Any errors have been human input errors, not system errors. We probably use 5% of the work we used before. Automatic reporting has turned 30-40 minutes of work into the click of a button. This is a game changer.
We've also had a much easier time tracking communications. For example, if my staff is out sick or on vacation, I can use Breeze Premier to see what they've sent out, when messages were sent and who was included. Our business needs to keep a digital record of all communications.
Transparency is always key for us. Owners can log in to their portals to look at their properties. They can review accounts receivable (AR) reports and work orders anytime. Breeze Premier helps us concentrate on our buildings instead of spending time dealing with our data.
How do electronic screening & payment processing compare to your previous methods?
For resident screening, we manually verify all referrals but appreciate that Breeze Premier's reports are comprehensive. Our previous process was entirely manual and paper based.
RentCafe is likewise great. It's seamless and easy for our residents to use. I love that rents get pulled and posted in real time. I know when rent is in transit, and the AR report shows who still needs to pay and don't need to have someone make trips to the bank to make deposits. We have been collecting most rent online and now get very few paper cheques.
When we went through an audit, I gave the auditor access to Breeze Premier to review certain properties. This saved us time as we did not need to have an accountant go back and forth with the auditor.
How has your experience been with our customer support?
Breeze Premier is very easy to set up. The online chat support has been amazing. With other providers, we would have to call or email and wait 24-48 hours, and delays of that length negatively impact our productivity.
What do others need to know about growing a small property management business today?
Use tech and embrace it. Gone are the days of having a building operator run around with paperwork. Accountants will enjoy and benefit from going paperless. CRM reminders also help small companies function like a large organization without increasing costs.
Property management software lets even a small property management business deliver a quality product and perform quite effectively. Figure out your cost per door, then use your data to create a growth plan and better compete with other businesses. This is all part of scaling up. As you grow, you'll find some products have a large upfront cost. With Yardi Breeze Premier, there are no setup fees, and its out-of-the-box usability and hands-on training brought everything together for us.
One more thing. Those new to this business need to know it's a close-knit industry, which impacts your relationship with vendors. Your reputation will stick to you like glue, and this can be detrimental to your growth in the industry. Pay your vendors on time and make sure maintenance is being done to satisfaction. As a property manager, be respectful and humble with vendors. Know their names, as they will influence how you grow.