Apartment hunters do most of their research on the internet. That's not a shocking statement, but let's look at some important stats. The 2020 Multi-Res Tenant Survey, conducted by Informa Canada, reveals that more and more renters are searching online for their next rental home. According to the survey, 74% of respondents say websites matter when searching for a new rental. In other words, internet visibility is vital to the success of your property management business. This is where Google My Business (GMB) comes in.
This article will tell you what you need to know about GMB, how to set up your free account and which GMB features you should pay attention to.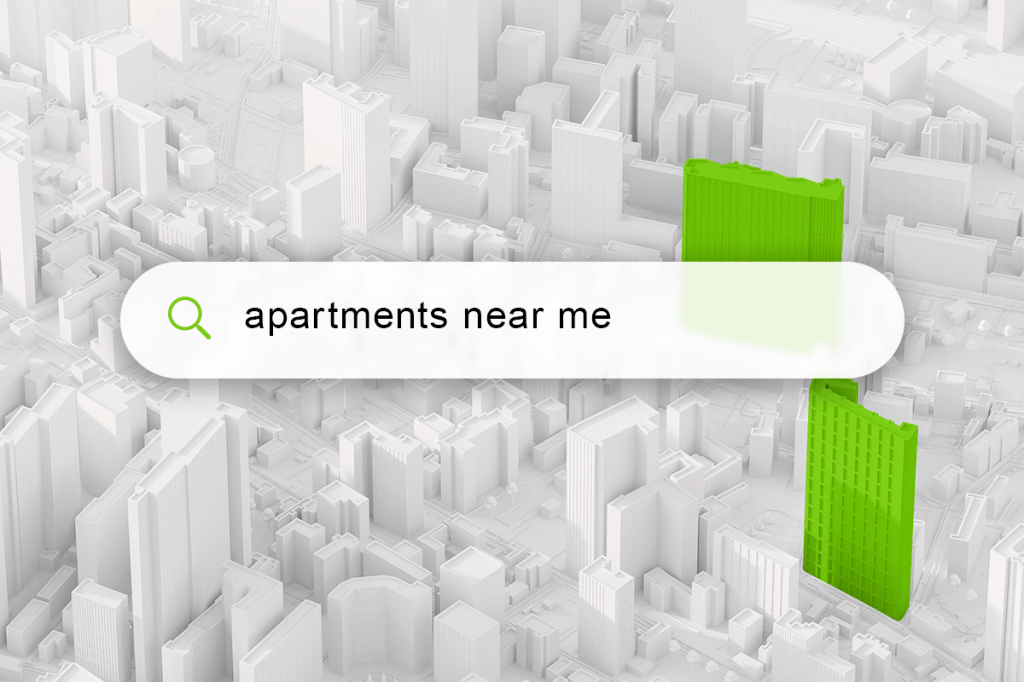 How Google Ranks Businesses
If you've ever Googled something like "takeout near me," you've seen GMB profiles. They're the business profiles that appear within Google, complete with contact info, ratings, reviews and photos. All locations appear in an order based on three categories determined by Google: relevance, distance and prominence.
RELEVANCE
Relevance is how close your business profile matches someone's search. So, a search for "Chinese takeout" will filter out other types of restaurants. Likewise, a search for "apartments near me" should filter out units that are many miles away (the user can adjust for distance).
It's not a good idea to try to appear in irrelevant searches. Doing so is unhelpful to potential renters, and false or otherwise misleading information can actually hurt your rank. Google My Business is on top of this sort of mischief.
DISTANCE
Search parameters need to match the location of your properties for your buildings to appear.
PROMINENCE
The more information about your businesses there is on the internet, the more likely you are to be highly ranked by Google. Such information includes:
Third-party links to your website
Articles about your business
The number of Google Reviews
Your overall star rating on Google Reviews
The completeness of your profile
Now that you know why you need to set up a profile and keep it updated, let's get into the nitty gritty of a GMB profile.
1. Make a complete profile
A notable perk of Google My Business is that it's free. For a powerful tool that immediately connects your business with potential renters, that's pretty amazing.
The first thing you'll need to do is set up your profile. GMB lets you pick a category (or categories) for your property management business: apartment complex, apartment rental agency, condo community, etc. Pick all that apply. And remember: Do not pick categories that don't apply to your property management business in the hopes that you'll appear in more searches. Doing so can hurt your ranking.
Next, fill out your full contact information (e.g., full name of your company, address, contact info). Be sure to triple-check your work. Once your business information is entered, it becomes semi-permanent. It might take several weeks to see any further edits go live.
2. Keep the Q&A section up to date
Every profile has a Q&A section. It's used for people to ask questions, which can be answered by the business and/or the online community. Be sure to check it regularly and answer questions as they come up.
Pro tip: Add questions and answers yourself. This is a great way to boost the prominence of your GMB listing and answer FAQs before prospects even reach your site.
3. Copy photos from RentCafe
The best way to keep your GMB profile updated with the latest content is to make changes on RentCafe first. Those changes will be automatically syndicated across other property listings.
Then, upload new photos into your Google My Business profile. How often you do this depends on how often you add amenities or make renovations. Consider updating your GMB assets once per week. If that's too much, aim for every other week or every month at minimum.
4. Post something new every week
Your Google My Business account is the window between a customer and your business. If you can manage a small content update every week or so, you'll be building relationships with prospects before they even email or pick up the phone.
Get the most out of RentCafe
Yardi Breeze Premier pairs with RentCafe to offer the latest in property management software. Along with enhanced accounting and reporting tools, you'll countersign leases, get paid online, enjoy full listing syndication and many other resident services that help make work a breeze.