Property management software (such as Yardi Breeze Premier) makes remote work easier and more accessible for everyone on your team. Now that we're deep into a pandemic and many people are working from home, it's the perfect time to talk about how to run more effective virtual meetings.
Before COVID-19, many people had never been in a virtual meeting. But seeing as it has become a norm in everyday work life for many of us, there are a few ways you can make it more engaging and easier for your audience.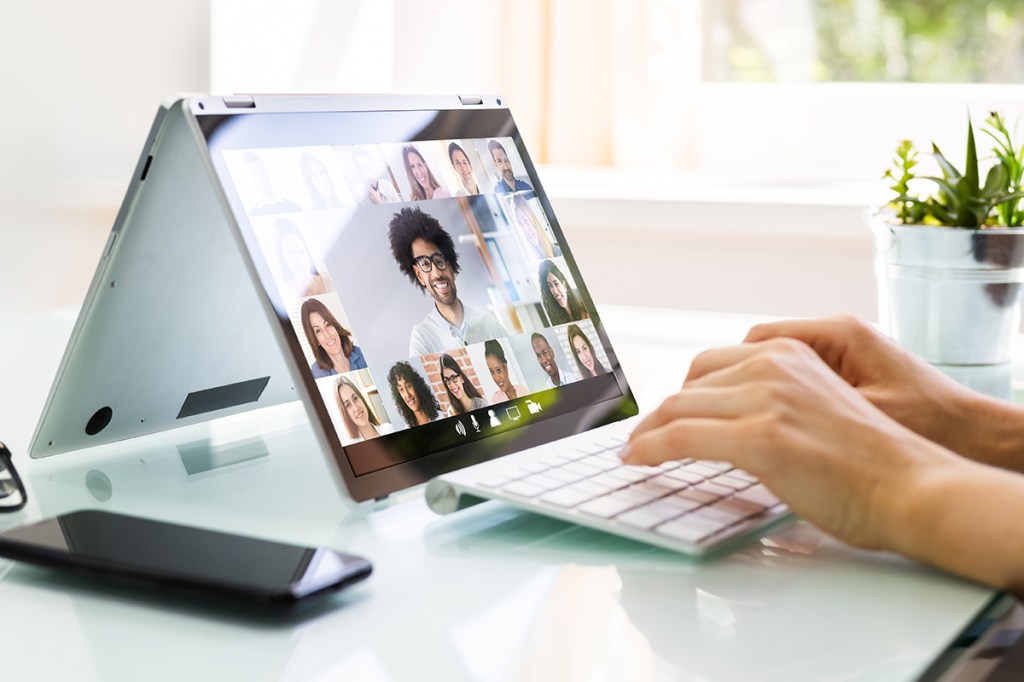 1. Use one platform that works for everyone
Sometimes, the hardest part about holding virtual meetings is simply getting everyone used to the same software. GoToMeeting, Zoom, Microsoft Teams and Skype are popular options with unique features. The good news is that no matter which one you pick, they're all easy to learn and use.
Once you find a platform you like, pick a pricing plan that fits your needs. While there are usually free options available, most property management businesses will need to upgrade to a paid version. For instance, the free version of Zoom limits group meetings to 40 minutes (with unlimited one-on-one meetings), so the time constraint might not work for you.
2. Email the agenda in advance
There are often more distractions at home than there are in professional meeting rooms and offices. This makes it easier for people to get "lost" in the meeting. To help prevent this from happening, email your meeting agenda a few minutes before the meeting starts. Even if someone loses the flow of the conversation, they can check the agenda to get caught up faster.
3. Allow team members to submit thoughts & responses in writing
The transition to virtual meetings may be a challenge, but it's also an opportunity to improve accessibility for employees with different learning preferences. Society is beginning to recognize that we all have different communication styles and preferences that should be accommodated in the workplace.
The loudest or most outspoken person in the room isn't necessarily the one with the best ideas.
Further, those who are differently abled, for example, those who fall on the autism spectrum or have an otherwise atypical neurology, may prefer to share their valuable ideas in writing or a private conversation.
It's easy to accommodate everyone's ideas and contributions. When you email the meeting agenda, you give your entire team a chance to share. You can read their contributions aloud, and the rest of the team can weigh in.
4. Teach new tech to your team
Technology is a barrier for some and second nature to others. If you fall into the former category, appoint a tech-savvy member of your team to take charge of learning and teaching everyone else how to use the platform. (This is a great leadership opportunity!)
5. Test the virtual meeting software before each meeting
To make sure everyone will have a smooth experience joining your virtual meeting, join the meeting 5-10 minutes before it starts. This gives you a chance to share your screen, test audio, video, etc.
Before holding your first virtual meeting, everyone on your team should be able to:
Log in (admittedly, that's kind of obvious)
Adjust their audio and video settings
Use the chat feature
Use the "hand raise" feature, if applicable
Share their screen
Send files to the team
6. Check in with everyone at the start of each meeting
It can be a challenge to keep up morale when working remote, and you should expect an adjustment period. That's why it's important to check in with everyone before getting down to business.
Have an icebreaker ready or go around the room (so to speak) and hear from everyone. Here are a few questions to get you thinking:
"How was everyone's night last night?"
"What's something that went well for you today?"
"What's one thing everyone is looking forward to this weekend?"
7. Provide a visual at all times
Screen sharing is a great way to help people follow along with the meeting. If you're doing video meetings, it helps to be able to see everyone's faces, but it can feel a bit "unnatural" to stare at one person for the duration of a whole meeting. Instead, put the agenda on-screen, make a PowerPoint or use other visuals to keep people engaged.
8. Turn off notifications
Turn off notifications and pop-ups, especially if you're using a personal device to host your virtual meeting. If you usually have email and text message alerts activated, triple-check that you deactivate them before every meeting.
Nothing should be visible on your screen that's unrelated to the meeting, so check your open browser tabs, recent internet searches, open documents, etc. to make sure confidential business information isn't inadvertently shared. Personal details can be even more embarrassing if they're spotted on your work device because they may create the appearance that you spend work time doing personal activities.
9. Use video as much as possible
When working remote, video is your friend. When you hold audio-only meetings, it's harder to connect with each other. There are no visual cues to see how people are feeling, reacting, thinking, etc. This can also result in accidental interruptions and people talking over each other.
For some, a lack of video makes it easier to lose focus. Visual cues help everyone stay alert and engaged.
Some teams have valid reasons for not using video throughout their meetings. If that's the case for you, try to use it at the beginning of the virtual meeting. This gives everyone a chance to say hello and connect a little.
10. Mute non-speakers
If you have several people in a virtual meeting, there are bound to be distracting background noises. To prevent this, ask non-speakers to mute their devices. Some platforms let the meeting leader put others on mute, but it's easier if people monitor themselves.
Just remember to unmute before you start speaking!
11. Choose smart camera angles
Even if your audio is muted, some on-screen distractions have nothing to do with you. There could be a distracting walk-by behind you: pets, kids, your partner, etc.
Not sure where to set up? An empty wall behind you is perfectly fine, and there's no harm in having tasteful, inoffensive artwork on the wall. If it's questionable, take it down or find another spot.
Your location should also be well-lit enough to show your face. Your entire face.
Pro tip 1: Camera angles that are point slightly down — just above eye level — are more flattering than upward angles. But neutral, eye-level angles are fine too.
Pro tip 2: Camera angles that point up can be distracting and might make you look intimidating. And if people can see up your nose, the camera is way too low!
PICK A BACKGROUND, (ALMOST) ANY BACKGROUND
If there's simply no reasonable background in your home, consider a virtual meeting background. They can also add a little welcome humor to your virtual meetings, as long as they aren't too distracting.
12. Dress appropriately
You never want to disrupt a meeting because you forgot your video feed is on, and you reveal yourself to be inappropriately dressed for a workplace discussion.
While there are jokes about this on the internet, inappropriate work attire may result in disciplinary action, depending on the severity of the offense and whether any damage was done to the company brand or reputation.
Even unintentional actions can be considered harassment, so take the act of getting properly dressed seriously.
13. Tell others in your house that a meeting is about to start
Let your partner, kids and whomever else is around know you're about to join a meeting. This simple act will reduce the chance of distracting background noise or someone barging in on you during the meeting.
This way, in the event someone makes noise or an unwelcome on-screen appearance, maybe they'll buy you ice cream to make up for it.
14. Prepare a backup device
Be prepared for internet issues such as video delays and audio drops. It might be best to have a fallback option, and most virtual meeting platforms offer free smartphone apps.
15. Don't waste time on unnecessary meetings
If you type out your meeting agenda and see that you've said everything that needs to be said, consider if you need to hold the meeting. A simple email may do the trick.
Still, it's a good idea to gather people together occasionally just to answer questions or give your team the opportunity to connect and share their thoughts.
Remember, practice makes perfect
There is an art to running a good meeting, and many experienced property managers have mastered it over years of practice. But virtual meetings are changing the game once again, and everyone is learning on the go. Don't expect perfection overnight.
Use the tips in this article and keep practicing with your team. You'll be running smooth, engaging meetings in no time.
Beyond virtual meetings
If your team is working remote, you're probably not able to show units like you were before the pandemic. Check out 4 Ways Property Management Software Helps Your Team.
And don't miss 10 Ways Property Managers Can Make Social Distancing at Work Safer.