Shirley Butt has been at Yardi for over 10 years. She's seen the property management industry transform from on-site databases to cloud-based software services. Plus, she's helped countless businesses make that transition as seamless as possible. We talked to her about what she and her team do to prepare software demos of Yardi Breeze Premier, covering some of the most sought-after features and the overall direction of tech in property management.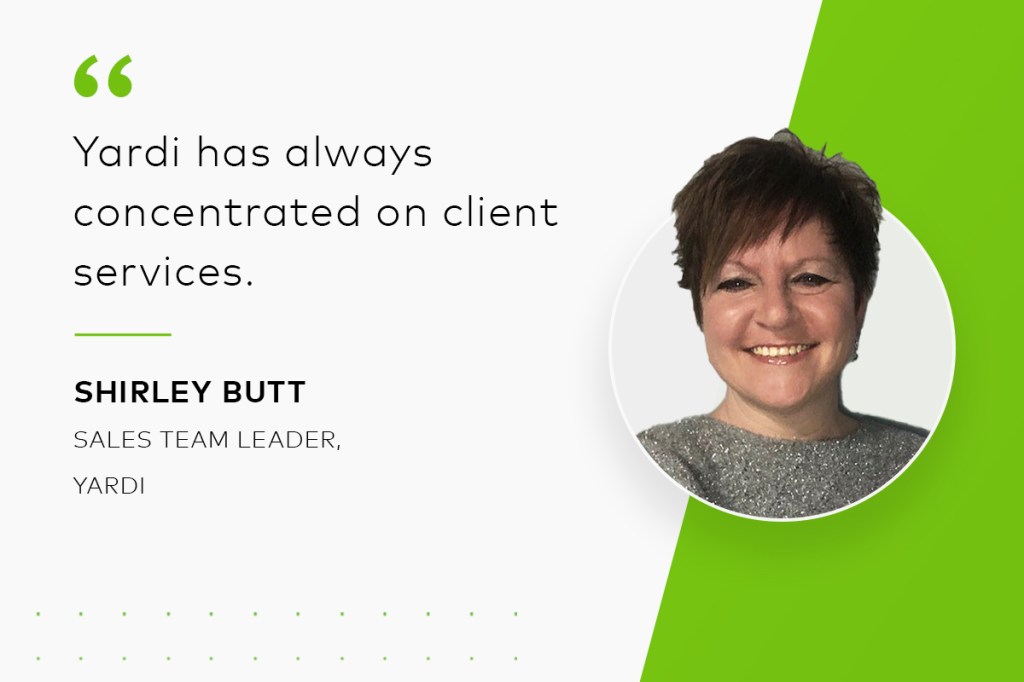 Shirley, please tell us about your role at Yardi.
My role with Yardi is as team lead of presales. My team and I create and maintain demo environments used for residential and commercial presentations of Breeze Premier. We also field any follow-up questions that may arise from those online demos.
In what ways have we had to adapt to stay competitive?
Yardi re-evaluates its product offerings on an ongoing basis to ensure they're user friendly, contain the right functionality and keep us competitive in today's market. We listen to our prospective and current clients who provide us with feedback and suggest new features for future updates. One example of this is recurring maintenance requests. Due to client feedback, we have this set up for our next release of Breeze Premier.
Over the past couple of years, have clients ever expressed relief after getting property management software?
Absolutely. Our clients are excited about having a property management system that lets them track their information in one place. They can run any report themselves, whether that be a property management or financial report. They can publish reports instantly to owner portals for their owners to see. This saves time, especially for those clients who were previously spending countless hours to complete their commercial reconciliations in basic spreadsheets.
They see early on that with Breeze Premier comes simplicity. It's easy for them to learn the system. With Breeze Premier, we even go a step further by providing every customer with an implementation specialist. We also have the live chat function and online Help Centre. These tools help to quickly get their new databases up and running.
What's one thing that all customers want a proptech expert to show them?
I think they really, really want to see for themselves that we offer a friendly, easy-to-use product with full functionality. Breeze Premier comes with more powerful functionality for clients that need it, like setting up custom tables/books and running reports on them using property attributes. It's all very easy to set up and maintain.
What's changed in property management since you joined Yardi?
When I joined Yardi 10 years ago, there was no real online presence in the industry. Property managers held databases on their own office servers. Now, everything's moved to the cloud. It really reduces the workload and IT burden for everyone in the office. Renters create and manage their account via the tenant portal, which is also where they go to complete maintenance requests, payments, document sharing, etc.
What about Yardi's mission? Has that changed in the time you've been here?
I don't really think so. Yardi's mission is to take care of our clients, take care of our employees, take care of our communities, stay focused and grow. Since I started here 10 years ago, that's always been our mission. Yardi has always concentrated on client services, ensuring our customers are happy and cared for.
Last question. What are you looking forward to the most?
Honestly, it's every day. I look forward to meeting new prospects during demonstrations and discussing the pain points they may have with their existing products. I take that information and tailor their demo to solve their issues.
It's also the excitement in their voices when they get to move forward with a product that will give them everything that they need. I'm happy that I get to help make their day-to-day lives easier and their companies stronger.