We can't wait for our Yardi Breeze and Yardi Breeze Premier users to join us on March 17-18 for REfresh, a Yardi Breeze experience unlike anything we've done before. This free virtual user conference will offer over 80 educational sessions, all of which are on-demand over both days. Attendees can also live chat their questions, best practices, tips and tricks. We are using our very own Aspire platform to host the event.
Breeze and Breeze Premier clients don't need to register in advance.
To jump in, you only need to meet two requirements:
Be a Breeze or Breeze Premier user in Canada
Log in to Breeze or Breeze Premier on March 17-18, then click the big green REfresh banner at the top of the screen. (You can't miss it.)
For more details about the event, visit our REfresh page. If you are a Breeze or Breeze Premier user, you can also find this information in the product's Help Center.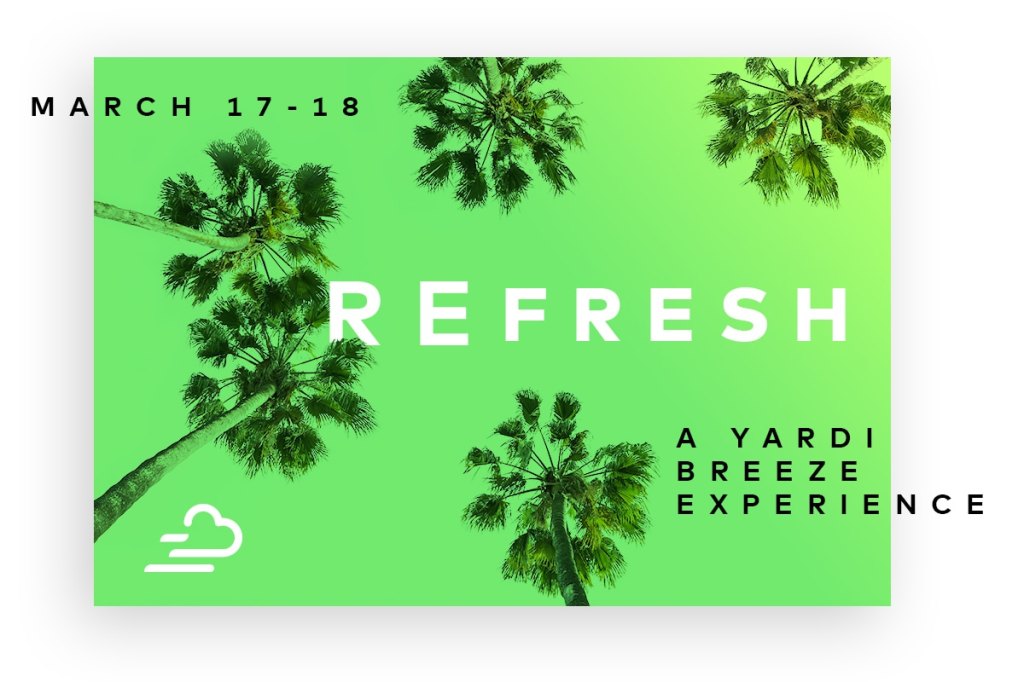 What to expect at REfresh
We're excited to be putting on an event just for property managers, owners, leasing agents and other real estate professionals who use Breeze and Breeze Premier. Here's a quick look at what we're offering attendees.
EDUCATION
Choose from 80+ online sessions and chat live with product experts and developers at any time during the event.
NETWORKING
What's going on in your neck of the woods? Chat up your peers with any thoughts, ideas, questions or inspirations that come to mind.
BEST PRACTICES
We know productivity is profitability. That's why we want to give you a close look at all our latest tech. Check out new products and come away with some bright ideas for the future.
FUN
This event is going to be a blast. As a big thank you to our clients, there are plenty of prizes, giveaways and even a few special surprises we'll reveal at the event.
Find the right class for you
Classes are split into categories, making it easy for attendees to find the ones that match their interests and knowledge of Breeze. Basic, intermediate and advanced sessions will cover everything from product overviews and accounting basics to detailed lessons on setup and advanced leasing operations.
See what's new
We encourage attendees to drop into presentations and demos on our latest solutions. Are you a Breeze user interested in upgrading to Breeze Premier? Join a tour of the software. Looking at an add-on to help streamline investment management, go paperless with invoice processing, level up your property websites, etc.? We have you covered.
Our entire team is looking forward to seeing our Breeze and Breeze Premier clients at REfresh.